Our story
Laurentia Exploration was officially established in 2017. It is first and foremost the story of a trio of geology enthusiasts, all graduates of the Université du Québec à Chicoutimi (UQAC), who wanted to take on new challenges and exceed their limits. At this point, the market offers did not seem to meet their professional aspirations. It was then that the idea of founding a company in their image, that would meet the needs of the market. The trio of Hugues, Alexis and Maxime have established contacts in the industry and have refined their services for mining companies. Victims of their success, they soon had to surround themselves with other professionals: Laurentia Exploration was born.
The new company has been able to succeed in the industry by offering professional consulting geology services.
Thanks to its turnkey support for each of its clients, Laurentia Exploration was able to meet a need expressed by the mineral exploration market, in which it quickly gained its place. Today, the Laurentia Exploration team is made up of nearly 60 employees, all dedicated and passionate, who love rocks and want more!
In 2021, the team of administrators grew, welcoming Jérôme Augustin, PhD, for whom structural geology, gitology and project management have almost no secrets.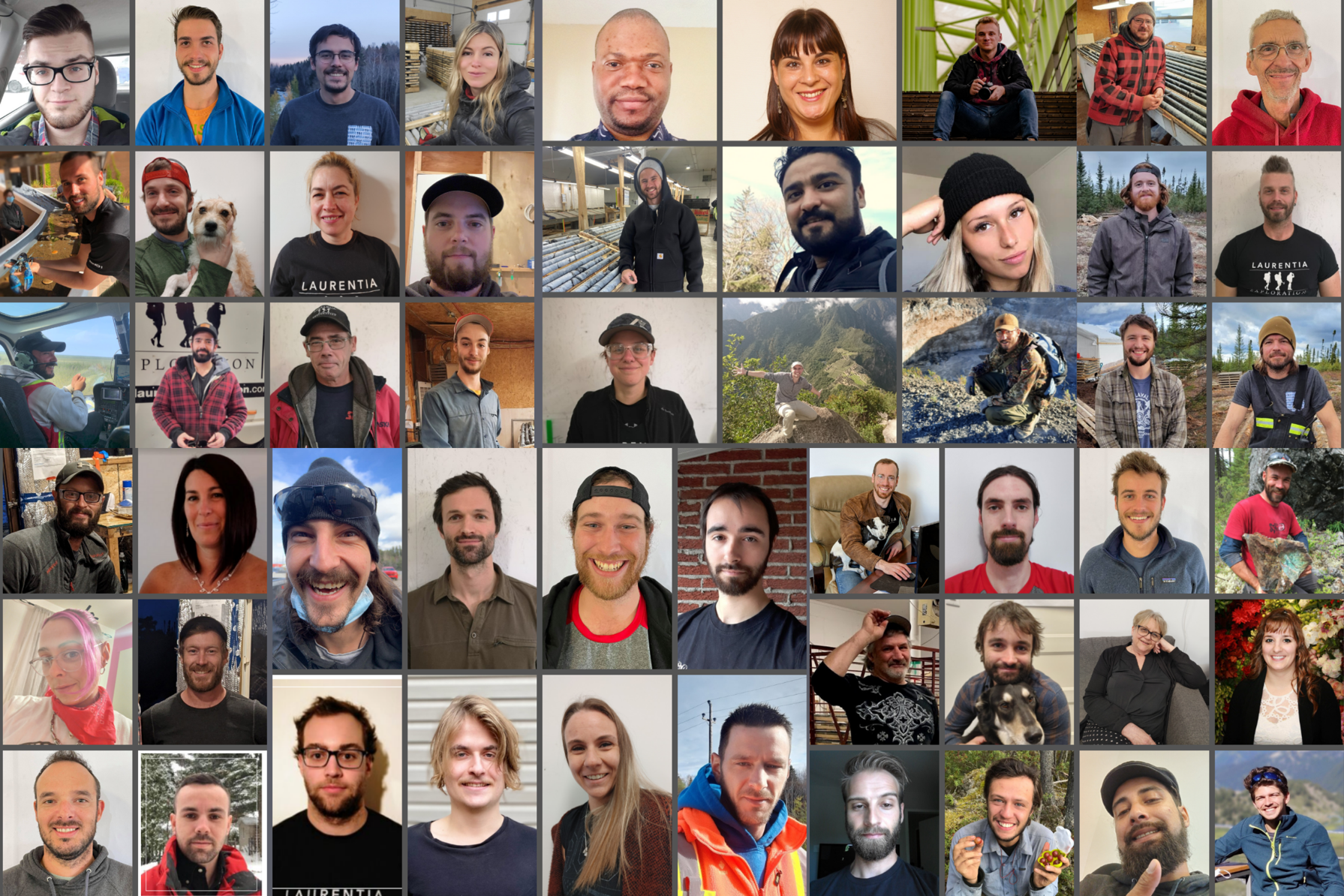 MISSION
Laurentia Exploration's mission is to provide mining clients with a range of specialized geology and consulting services, enabling them to benefit from turnkey projects and to be accompanied throughout the mandate. In each project, the team's main objective is to exceed the expectations of applicants, both in terms of the realization of their ideas and the experience of teamwork.
VISION
Laurentia Exploration aspires to become a reference for leading experts in the field of consulting geology in Quebec. The company wishes to be recognized not only by the diverse range of services offered, but also by the assets of the team, which, through its synergy and many qualifications, offers a continuous, accessible and effective support service.
VALUES
Passion
Our shared passion for geology, discovery and nature allows you to work with dedicated individuals and keep abreast of new techniques in the mining industry.
Professionalism
Our professionalism is reflected not only in the rigor and thoroughness of our employees, but also in our personalized approach to meet your needs, as well as in the quality of the work delivered.
Integrity
In our opinion, integrity is essential to the proper functioning of an advisory service undertaking such as ours. It is based on strong ethical principles and is demonstrated by the openness, loyalty and transparency that characterize our relationships with our clients. This value also helps maintain an unwavering team chemistry between our workers and yours.
Sustainable development
Any action taken to ensure the success of your projects meets sustainable development standards. We attach great importance to this for the good and preservation of our environment; our company obtained the Ecologo certification (UL 2724) for service providers in the mining exploration sector in March 2021.