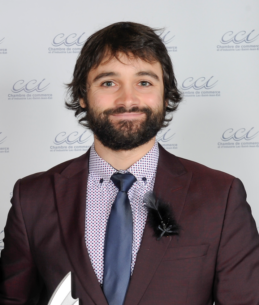 Hugues Guérin-Tremblay
Mr. Guérin is a geologist graduated in 2011 with a Bachelor's degree from UQAC. He has extensive experience in mining exploration and project management. He has over 11 years of experience in James Bay, Chibougamau-Chapais, Saguenay-Lac-Saint-Jean, Abitibi and southern Quebec.
At Laurentia Exploration he oversees a range of projects in different contexts (Orogenic Gold, SMV, Ni-Cu Magmatic and industrial mineralization (Fe-Ti-P-V)). The projects he is associated with are at various stages; from grassroot exploration to drilling for resource calculations. He is primarily involved in remote and complex logistics projects.
Before founding Laurentia Exploration, he worked for 4 years at Arianne Phosphate (Arianne Resources) where he gained a lot of experience in project management while working as a project geologist. He was assigned to the Lac-à-Paul project where he acted as manager during the work for the pre-feasibility, feasibility and all other exploration and drilling campaigns. He contributed greatly to the development of the deposit to make it a world-class deposit. Mr. Guérin stands out for his leadership, organization, experience and sense of logistics.